William Shakespeare's Rape of Lucrece
American Shakespeare Repertory
An intimate, intense, and terrifying adaptation of William Shakespeare'e epic poem. In this dramatic, storytelling staging, the vibrant, staccato beats of the Bard's eternal verse pound out a tale of erotic savagery and violation.

Lucrece is the sweet and virtuous wife of Colatine. But when Colatine sings her praises to his fellow officers, he lights a blazing lust in the heart of Prince Tarquin. Tarquin flees the army, returns to Rome, enters Lucrece's home under false pretenses, and in the blackest hours of the night forces himself upon her.

Lucrece's ordeal, however, is only beginning as Shakespeare vividly captures her bleak and hopeless struggle to cope with unimaginable trauma...


FEATURED IN...
Listen to our Fringe Mini Interview with Joshua Humphrey from TWIN CITIES THEATER CONNECTION.

Review by Will Wlizlo in the TWIN CITIES METRO: "American Shakespeare Repertory's minimal dramatization of Lucrece [is] oppressively intimate in the moment; leaves you feeling exposed and morally grasping. (...) Lucrece, played by Cara Kluver, dashed between emotional extremes—from simpering fear to murderous fury, rational lucidity to bottomless grief—with endurance and skill."

Fringe Dispatch from Brad Richason at examiner.com: "Shakespeare, of course, can match wits with anyone, but the emotional authority of his dramatic verse wields an unsurpassable emotional charge. Few of his works demonstrate this evocative power as bracingly as his epic poem, The Rape of Lucrece... Rather than offering a dry recital of the text, the American Shakespeare Company's Justin Alexander and Cara Kluver fiercely possess their roles, voicing Shakespeare's rhythmic text with a sublime knack not only for the cadence, but for the underlying emotions. A minimalist production, Alexander and Kluver are afforded no option but to depict the appalling events through performance alone. Such audacity could have proven dire in less skilled hands, but these two remarkable performers transform the stage into an inescapable crime scene, depicting the horrific deed and subsequent anguish with unflinching commitment. As Lucrece, Kluver is especially moving, projecting horror, rage, and shame with a heartrending realism. Courageously committed, this is acting at its most primal and profound, recalling ancient storytelling techniques that have lost none of their emotional potency."

Recommended by TWIN CITIES THEATER CONNECTION: "This is a tour de force for Justin Alexander, whose role as storyteller keeps him almost continually onstage for the show's approximately 55 minute run time. Cara Kluver's quiet, glowing presence provides a stark, effective contrast as the show's tension escalates toward the unfortunate conclusion."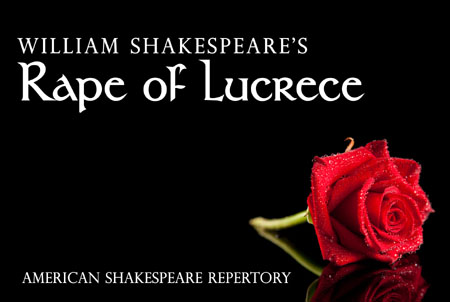 ---
AMERICAN SHAKESPEARE REPERTORY
The American Shakespeare Repertory is dedicated to capturing the glory of Shakespeare's plays in the context of the repertory in which they were originally performed. Its productions will explore the unique resonances and discoveries made possible when the plays are juxtaposed against each other; against the other playwrights of the Elizabethan age; and against the multitude of works throughout time which inspired them and have been inspired by them.
RSS FEED - FACEBOOK FAN PAGE
Cara Kluver
Role: Lucrece
Cara Kluver is a recent graduate of the Theatre Performance BFA program at Viterbo University in La Crosse, Wisconsin. Most recently, she has appeared in readings of Hamlet, The Merchant of Venice, Much Ado About Nothing, and Cymbeline with the American Shakespeare Repertory theater. She has also performed in Anton in Show Business, Room Service, and Voices From Beyond the Dark. Although acting is her first love, Cara enjoys photography and writing. Some of her photographs have appeared in a national campaign by Melcher Media; one of her short stories, "Monsters", was published in Viterbo University's literary publication Touchstone; and she has written and directed several one acts. Cara is thrilled to be a part of the Fringe Festival, and invites you to visit her website at www.carakluver.com!

Justin Alexander
Role: Storyteller / Co-Director
Alexander is the founder of the American Shakespeare Repertory and creator of the Complete Readings of William Shakespeare. He has worked locally with Walking Shadow Theater, Illusion Theater, Starting Gate Productions, Theatre in the Round, Shakespeare and Company, and Dream Machine Productions.

Hannah Steblay
Role: Co-Director
Hannah has been working in the theater since she was 8 years old. She began by acting in youth driven productions of Shakespearean comedies. At sixteen, she started directing when she approached an elementary school and offered to direct A Midsummer Night's Dream for the 2-4 graders to act in. This quickly expanded into her own business which is now called, Youth Shakespeare Company. Ever since then, she has continued to learn, teach and grow by directing children's shows, teaching youth workshops, acting and designing. She went to Hamline University and graduated with a B.A. in Theater Arts. This marks the 30th Shakespearean production that Hannah has been apart of.


Nicole Rodriguez
Role: Stage Manager
Nicole Rodriguez is currently a senior at the University of Minnesota; working on a major in Theater Arts and a minor in Spanish. Her interests are mainly in stage managing and lighting design. This is her first time working in the Minnesota Fringe festival and is excited to continue working in the Twin Cities theater scene. She likes cats, apple pie and traveling.

Sarah Holmberg
Role: Production Manager
American Shakespeare Repertory: Executive Director
Representative Theater: (as Stage Manager) Walking Shadow Theatre Company: After the Quake, Drakul, The Crowd You're In With, See You Next Tuesday, The Trandsdimensional Couriers Union, Mojo, Robots vs. Fake Robots, Caligula, Amazons and Their Men, The American Pilot; New Theatre Group: Strong, Little Green Man, American Sexy; American Shakespeare Repertory: Complete Readings of William Shakespeare

Eductation: University of Wisconsin: BFA Technical Direction and Design, MA Television Production
Upcoming: Torch Theatre: True West (Props Designer)

You must be logged in to review shows.
Log in now.
Who Wrote This?
by Kale Ganann Follow this reviewer
Rating 3 kitties
Joking aside, though there are those who believe every word Shakespeare wrote was genius, the man had his relative failures. Though he wrote some of the greatest plays of all time, and some of the most beautiful poetry, The Rape of Lucrece does not rank among it - it is perhaps one of the few pieces of Shakespeare better read than performed. The actors do a superb job, but while their emotions soar, the words lay heavy on the page. Perhaps I just find the subject too rank, but I couldn't enjoy this.
Very Good
by Katlin Walsh Follow this reviewer
Rating 5 kitties
I found the show to be very powerful and moving. Not often I can say it made me cry, in a good way. The language flowed very well. I forgot I was listening to Shakespeare most of time. I really enjoyed this show. I have not stop thinking about it since I saw it.
Powerful and Accessible Shakespeare
by Erik Malm Follow this reviewer
Rating 5 kitties
While I love Shakespeare, I often have trouble following the language. That was not an issue in this production. The actors use action, inflection, and pacing to make the meaning of every line easy to understand and accessible to a modern audience without compromising the original language. In fact, I was often able to forget I was listening to Shakespeare and become fully immersed in the terrifying story unfolding before me.

In case you don't know, "Lucrece" is not a play but an epic poem. Consequently, this production is not a traditional play but rather two storytellers telling a story from the third person while simultaneously acting it out. I knew this going in, so I wasn't thrown off. And, now that you know, you won't be either :)
A different type of production
by Donald Kahn Follow this reviewer
Rating 5 kitties
With all the take offs and parodies of Shakespeare in the festival, it was great to have this dramatic reading of a poem as Will wrote it. Both actors were terrific and it was an emotional experiance. In contrast to others, the program has a very helpful introduction.

Phyllis Kahn
"kings' misdeeds cannot be hid"
by Jesse Field Follow this reviewer
Rating 4 kitties
I was amazed to discover "Lucrece," one of those texts that comes in every complete edition of Shakespeare, but which I personally never read. The cast takes up the huge challenge of conveying all the action and feeling of the poem at what seems a natural pace, finishing in just about 1 hour.

Test yourself; read aloud:

And they, like straggling slaves for pillage fighting,
Obdurate vassals fell exploits effecting,
In bloody death and ravishment delighting,
Nor children's tears nor mothers' groans respecting,
Swell in their pride, the onset still expecting:
Anon his beating heart, alarum striking,
Gives the hot charge and bids them do their liking.

Are you thrilled to the core? Horrified by war? Then go see this. Bored already? Don't go!
Minimalism Maximized
by Molly Miller Follow this reviewer
Rating 3 kitties
This was a show I saw and really wanted to see. It advertised itself as a really intense and emotional piece. Which, it could have been. The language of the piece was beautiful, as I expected it would be. It was wonderfully memorized, but could have benefited from a couple more actors to carry on the narration so the actors within the world of the play could focus on their characters, instead of trying to reconcile being in the world and in the theatre at the same time. A bit of the magic (and much of the actual literature) was lost that way.

Also, the starkness of the visuals (such as the red cloak) worked well, however the bareness of the movement I think worked against the performers. I found myself wondering if watching the actors was even needed, since the majority of the story was told through the narration, not the actions of the actors.

Again, the show was a bit minimalist for me to get as much out of it as I was hoping. It would have benefited from more actors, more movement, and more of a blend between the stage and the story.
Terrible Acting
by Patrick Claypool Follow this reviewer
Rating 0 kitties
There must be some fake reviews on this show because TRUST ME... No one in the audience liked it that much the night I saw it. The language is unmotivated and stiff. They speak the language well but there is no emotion. They lead the words around instead of having the words lead them.

This is by far the worst thing I've seen at the Fringe (10 shows).
Not Your Usual Fringe Show
by Gail Frazer Follow this reviewer
Rating 5 kitties
No gimmicky ensemble work -- just stark, focused, powerful acting.

No cheap jokes and in-humor – just rich language and raw emotions.

You'll need a few minutes at the beginning to get used to the Shakespearean language. It's denser in imagery and vocabulary than we're used to, but the ear shortly catches up and then the power of it carries you along into the story's dark depths of destructive lust and the bloody aftermath, performed with sometime horrifying passion by the two actors. I saw it opening night and there was some occasional unevenness in the performances, but not enough to detract from the overall emotional effectiveness. Because it's a poem, rather than a straightforward play, some different conventions apply than we're used to; the audience is kept on its mental toes.

The background information on the program's first page sets up the situation for those who don't know this classical story of rape and suicide that led, in history, to bringing down the kings of Rome and creating the Republic and, in the centuries since, to debate over an ethical question still wrestled with today.

Not – I repeat – your usual Fringe show.
It's pretty okay.
by Tristan Miller Follow this reviewer
Rating 3 kitties
"The Rape of Lucriece," which was not funny, nor should it been. it was adapted for a Shakespearean poem, I am not way implying that Shakespeare isn't funny he is just not in the one. Now where was I? Ah, yes. The acting was….Off for bits of the play, the fact that they had one person playing the storyteller and a few of the characters got a bit confusing, the male actor though often compelling lack in certain areas such as diction and lack of pauses. He also had a tendency to barrel through his lines which with Shakespeare just made it harder to understand. But he seemed to know what he was saying which is key to performing The Bard's work. The young woman I had only a couple issues with mostly her repetitive gesturing and really that's about it some of the character's choices bothered me but that's not the fault of the actor, she was compelling, spoke well, engaging and very nice looking, so no complants here. So, three and a half.
Haunting
by Jacqueline Wegscheid Follow this reviewer
Rating 4 kitties
Shakespeare didn't pull any punches on this one and neither do the performers. The subject matter is too awful for me to say that I really liked it, but it was moving and powerful and I'm still thinking about it a day later.

It should go without saying, given the title, but major trigger warning, and I would put the age range somewhat higher personally.
Good performance of a rarely seen work
by John Heimbuch Follow this reviewer
Rating 4 kitties
If you're a fan of Shakespeare's verse, make a point of catching this show. The performers clearly understand the meaning behind the material, and the staging, while minimal, serves the text well - accentuating the dense imagery of the verse, while not competing with it. This performance is decidedly an auditory experience, as Cara Kluver conveys an especially nuanced delivery of Lucrece, with the right balance of clarity and emotion, and Justin Alexander establishes the context of her plight as the narrator and all other characters in the story. Their performances clearly connect to the Elizabethan concept of going to "hear a play".

Admittedly, Rape of Lucrece isn't for everyone. It is an Elizabethan iambic poem about rape, honor and death in ancient Rome, but fans of Shakespeare's text, imagery and allegory will find much enjoyment from this production of a rarely-seen work.
All Tell, No Show
by Steve Hartman Follow this reviewer
Rating 1 kitty
I entered the theater to see Rape of Lucrece with the expectation for a good evening. The American Shakespeare Rep performing one of Shakespeare's most marvelous poems?—Heck Yes! ...Let me just say I was disappointed - at best...

The only thing that gives this show a 1 is the tremendous effort by the actors. Shakespeare's epic poem is memorized and really spat out flawlessly throughout the evening - a terrific feat. What really killed the play is its horrible direction. Take the genre of "spoken word" in the play's description carefully - that's all that will happen the whole night. The audience is never given any stage pictures or illustrations to look at which really dulls down Shakespeare's beautiful language. This, of course, dulls down the whole play.

Imagine it like show and tell in elementary school. Someone doesn't bring in their item but, instead, just talks about it. That's what this play is - All tell, but no show.

I might as well have listened to the poem on audiobook.

The set is too minimalistic. Understanding it is in the round you would pardon one for so but this production simply doesn't use its resources. I would liked to have seen a small ensemble creating metaphysical spaces as the story progressed. The use of light, color, time, and space were very weak. This put a pressure on the actors for performance that they were not able to deliver.

Alas, the direction of the actors is also very bad. While they seem like talented actors (particularly the female), they end up plateauing very soon - singing one note for the rest of the 60 minutes. This makes even the most polished of Shakespeare unable to watch.

In short, this is not one to see. There are much better productions to see in the condensed time of the Fringe.
Darkness and Murk
by Liz Blank Follow this reviewer
Rating 3 kitties
After reading more about what the play was supposed to be about, it was all too dark, confusing, not enough transitions and changes in characters for me.
American Shakespeare
by Wesley McCord Follow this reviewer
Rating 1 kitty
While containing moments that speak to the audience Rape of Lucrece is overall a disappointment. The blocking is unoriginal and repetitive for theatre in the round with the actors, for the majority of the play, circling the space. The actors hide behind the text and do not convey the emotions or movements that the script offers in a way that captures the audiences attention. Filled with overacting, thick unconvincing British accents, and general lack of connection to the characters the most enjoyable part was counting the number of audience members dosing off. A decent show for lovers of Shakespeare's writing but not for those looking for any connection to the show.
Mesmerising
by Aseem Kaul Follow this reviewer
Rating 5 kitties
A superb performance that brings Shakespeare's epic poem powerfully to life. Cara Kluver is haunting as Lucrece, and Justin Alexander gives a stormy performance as Tarquin / Storyteller, though some of his line readings seemed a little rushed for my taste. More than anything else, Rape of Lucrece breathes fresh life into a somewhat neglected work, showcasing the lyrical force of Shakespeare's poetry, the vividness of his imagery, and the depth of his sympathy for his characters.

As someone who read Lucrece years ago in college and promptly relegated it the category of Shakespeare's lesser works (if there is such a thing), I'm grateful to the company for reminding me of what I had forgotten.
Glad to have seen this
by Adric Turlough Follow this reviewer
Rating 4 kitties
This was a well-done staging of Shakespeare's poem, with impressive performances by the two-person cast. Lines of the poem are exchanged between the Storyteller and Lucrece, intensifying the story, and each of the multiple characters portrayed by Justin Alexander's Storyteller are compelling.

If you are unfamiliar with the poem, as I was, the front page of the program gives a brief background of the story that I found very useful.

This was, and is, a poem, not a play. It is to be expected that this performance will have a slightly different feel from Shakespeare's plays. It could be a little wordy at times (as far as I could tell the performance followed the lines of poem exactly), but after I got used to the style I found myself absorbed in the world that the poem created.

The staging and use of light, and lack of light, skillfully accentuated the tense atmosphere of the poem. The Theatre in the Round is a perfect space for this, bringing the audience up-close to, and surrounding, the characters and their emotions.
Schedule
Thursday, 8/4
7:00 p.m.
Friday, 8/5
8:30 p.m.
Tuesday, 8/9
10:00 p.m.
Thursday, 8/11
5:30 p.m.
Sunday, 8/14
7:00 p.m.
Venue
Theatre in the Round Players

245 Cedar Av
View Larger Map
Overall rating
Shows like this